Set expectations from the beginning
Always begin with the project's scope and the virtual assistant's expected responsibilities. How long should the project take? How will the VA be compensated? What is an in-scope goal, and what is a stretch goal? These are the types of questions you should be asking yourself because your virtual assistant will almost certainly ask them once hired. That is why it is critical to provide clear guidelines and process documents, such as a SOW (Scope of Work), to define the scope and responsibilities; doing so avoids confusion and increases the likelihood of success.
Create a daily schedule
Once all contracts have been signed, the next step is to establish a consistent work or check-in schedule. It can be difficult to ensure that virtual assistants stay on task and communicate clearly because they are not physically present in the office. Discuss availability with the virtual assistant and look for overlaps between your company's and their schedules. If they live elsewhere, you must also consider the time difference.
Define a budget
One of the most compelling reasons to hire a virtual assistant is cost—virtual assistants are significantly less expensive than full-time employees. However, without a budget, it is very easy to overspend. Create estimates for how long each task should take and how much each task will cost based on the VA's rate when setting up a project for a VA. Avoid potential fallouts or disagreements about compensation by being as open as possible about your budget.
Time and task tracking
When it comes to remote work, accountability is essential. Nothing prevents a virtual assistant from claiming to have worked on something when they haven't, or from working on a project for hours but not having it tracked. While self-tracking is based on honor, it is still an effective way to monitor project completion and overall workload. To assess the overall progress and efficiency of your virtual assistants.
Provide constructive performance feedback
Provide monthly or quarterly reports to your virtual assistants to truly support and push them to improve; this can be as simple as a quick one-on-one conversation, but it is most important to address the greatest strengths and opportunities for improvement. Your virtual assistant will appreciate your candor and will repay you with their efforts.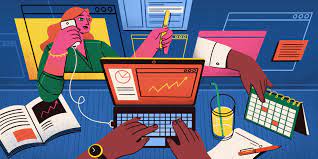 Our Services
Business Writing; Proof Reading; Transcription - Documents/ Audio-Video; Translation - English/ Sinhalese; Inbox Management; Web Site Creation; Creation of Business Cards/ Letter Heads/ Pre-Printed Documents/ Promotional Materials; CV/ Resume Writing; Personal Letters
AND
Many More